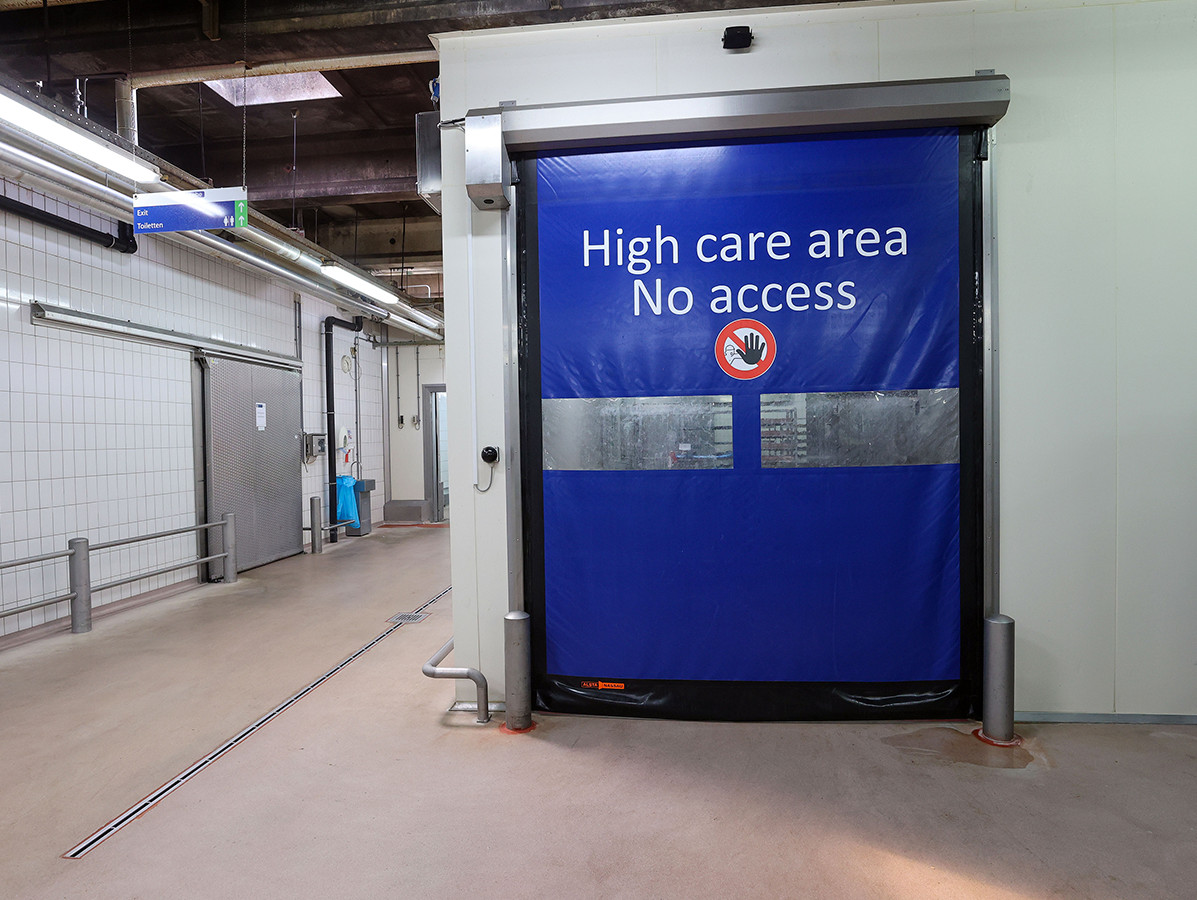 Temperature control and speed
Of course, specific requirements apply in the meat sector. For example, temperature control and the prevention of draught are very important, also for Vion. The high-care department has a higher pressure to prevent bacteria from entering. A good seal between the high-care and low-risk departments and their continuity is essential for food safety. Sanders: "The Dynaco speed doors contain no holes or cracks, the material is water-repellent and the lower pocket is sealed so that no water and soap can enter. So they do not allow drafts, dirt and cleaning agents to pass through and are easy to clean. This also applies to the stainless steel hoods that are placed over the side conducters, operator and rollers. And the doors open at a speed of 1.2 meters per second and close again at 0.5 meters per second. By means of a new control technology, this can be done even faster with newly installed doors. In short: these doors are perfect for companies that want to make their premises more sustainable.
Vion also values sustainability very strongly. The company shows that it makes progressive choices in this area. For example, the meat manufacturer focuses on the sustainable production of traditional meat. Vion also launched the start-up ME-AT at the end of last year. This branch focuses on the development of vegan meat substitutes that match the taste, texture and mouthfeel of meat. The products were launched on the market this year. With ME-AT they broaden the definition of meat and are able to meet the growing group of flexitarians in their demand for alternative proteins.
Response times
The purchase of the Dynaco High-speed doors also fits within Vion's sustainability policy. "They provide good climate control and therefore contribute to less energy consumption and lower costs," says Peter van Eijk, Assistant Manager Technical Services at Encebe Vion. The advantages for the end user and the energy saving properties were not the only reasons for purchasing the doors. Van Eijk: "The service provided by Alsta Nassau is great. At several locations of Vion there have been doors installed of the company for at least ten years, so their products and way of working are known to us. They offer access to an exclusive Dynaco product range. After the first purchase of the high speed door in 2018, we ordered three more for our location in Boxtel. The company's response time is also really good. They are always accessible and if a technical problem or malfunction occurs, a mechanic will be on the doorstep in no time". Sanders: "We have 60 mechanics available all over the country. They guarantee a brand-independent service, even for doors that are not supplied by us. And they are available 24/7." Van Eijk agrees: "The last three doors were assembled on Saturdays, so that production could continue on weekdays. That shows how much they think with us!"
www.alsta-nassau.nl
www.vionfoodgroup.com
Photos: © fotopersburo Bert Jansen