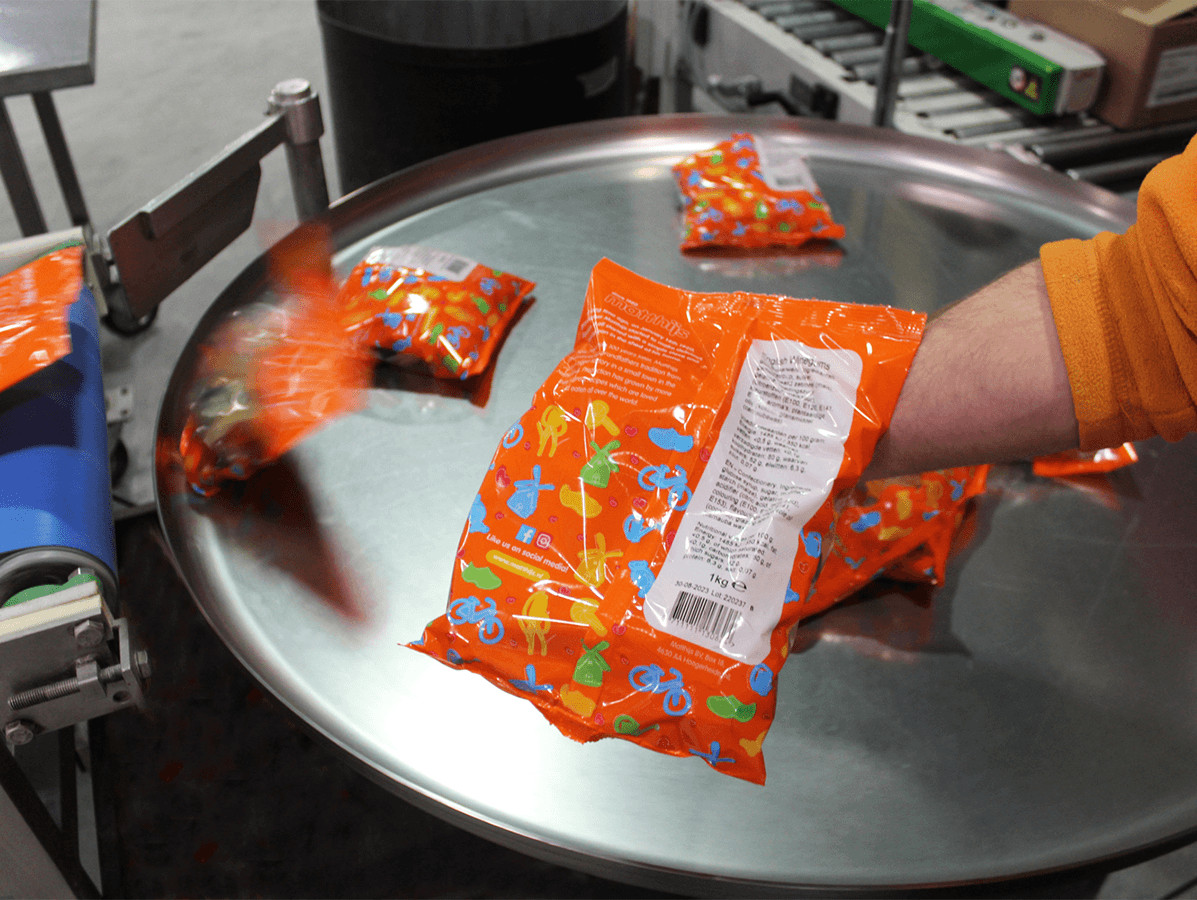 Each year, the Matthijs confectionery factory in Hoogerheide produces approximately 9.5 million kilos of candy. It started with the famous Manneke Pis liquorice and has now grown into an international player with production for customers in Europe, America and Asia. Especially in private label options, Matthijs really makes a difference for retailers. Almost anything is possible in range, design and packaging. Wouter Ceulemans of Matthijs was looking for reliable foil printers for all packaging lines. After a few discussions and a demo period, De Koningh was given the opportunity to supply everything.
Pillow bag and stand up pouch film packaging
"All Matthijs' sweets are simply made on their own Dutch soil in Hoogerheide", says Wouter Ceulemans. "From delicious liquorice to the most colourful wine gums and tasty gum. The eight packaging lines are all equipped with vertical packaging machines. Ideal for accurately filling the pillow bag and stand-up pouch foil packs with sweets. Each pack of confectionery must contain the correct information, such as: nutritional declaration, weight, best before date and lot number. For this purpose, the foil printers are fully integrated into the vertical packaging machines."
Clever technical solution
"The technical expertise of De Koningh certainly helped me. Despite our intermittent packaging machines, De Koningh came up with the idea of printing in the movement of the packaging film rather than in standstill. This enables us to put much more information on the packaging with the Linx foil printer. A print length of 75 mm was initially the maximum, but thanks to De Koningh's solution a print length of up to 200 mm is now feasible. The printing of complete ingredient declarations in several languages is now possible with one printer. The central control with CLARiSOFT software is also simple. I select a message and via the network I send the print data to the right thermal transfer printer."
Fastest printer for all foils
"In most cases, we print the variable information directly onto the packaging film using the Linx TT1000 film printer. Our wide and long 300 dpi print always appears smooth and super fast. In addition, this foil printer does not need compressed air, which makes a considerable difference in terms of consumption costs and, even more importantly, ease of use. Another big advantage for us is the efficiency in ribbon usage. Fewer ribbon changes and full use of the print ribbon allow us to produce more efficiently without extra stops."
Product development and innovation
"At Matthijs we continue to discover new types of sweets. For example, we are now introducing our concept Echte Mannekes. Available in four delicious flavours and packaged in a striking stand-up pouch with a handy ziplock. Fully in line with the current convenience wishes of sweet lovers. Or for example our latest 'Veggie' range of sweets. This extensive range contains sweets without ingredients of animal origin. We are constantly looking to perfect our flavours, raw materials, packaging and production possibilities."
Feeling peckish for sweets? Then take a look in Matthijs' online candy shop!