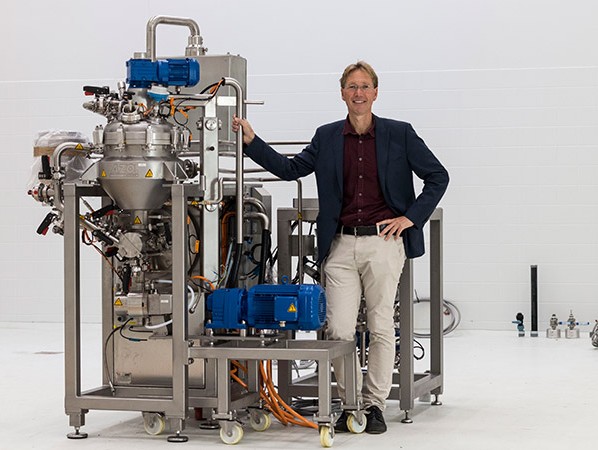 In cooperation with Provinsje Fryslân, the business sector and Nordwin College, Van Hall Larenstein University of Applied Sciences has invested €4 million to realise a Food Application Centre for Technology (FACT) at its location in Leeuwarden. Last February, the construction of this food innovation centre started and the finishing touches are currently being realised by placing state of the art equipment. On 17 October 2018, a special symposium will take place for the opening of the FACT. To conclude the symposium, Commissioner Johannes Kramer (including the portfolio AgroFood, Provinsje Fryslân) will officially open the FACT.
Symposium 'Sustainable, Mild Processing'
Van Hall Larenstein is organising the symposium in collaboration with Dairy Valley. During this symposium the main question is whether and how the dairy industry can produce sustainably obtained products in a mild way (while retaining the original characteristics of milk as much as possible) that meet the growing consumer demand of "natural, full of flavour, healthy and safe". What are the advantages, possible consequences and how should this (technologically) be realised? Specialists from Van Hall Larenstein, Danone, FrieslandCampina, NIZO food research, De Fryske and ZuivelNL will give their opinion on this during the symposium. More information about the FACT and the opening symposium can be found at www.hvhl.nl/fact. Interested parties can also register here (free of charge).
The Food Application Centre for Technology (FACT)
For the initiators of the FACT - Van Hall Larenstein, MBO Life Sciences (a joint venture between Friesland College and Nordwin College), Provinsje Fryslân and companies in the food industry - the continuous developments and need for well-trained personnel are an important motive. They want to support sustainable and healthy product and process innovation on a pilot scale, stimulate employment and train well qualified employees. Together they share their knowledge, purchase equipment and build a network of new customers. By choosing the very latest equipment, companies can collect a large amount of data during experimental food processing operations. They optimise their production lines, test new process technologies and investigate how they can ( more intelligently) use raw materials and residual materials, while sharing costs and keeping risks relatively low. At the same time, work is being done on automation and robotisation of (dairy) process technology.
Update videos
In the run-up to the opening of the FACT, regular update videos on progress, newly installed equipment and more are released. See all these videos in the FACT playlist and follow the playlist for regular updates.