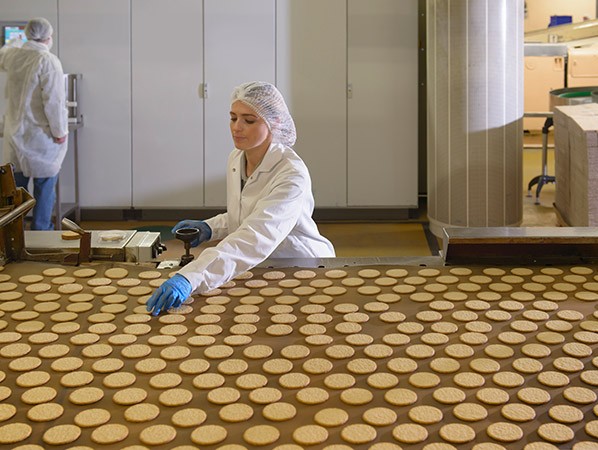 It took some getting used to for the twenty employees of food companies who participated in a simulation game on 5 April 2019. The simulation, organised by Willis Towers Watson in collaboration with Recall Solutions, highlighted the complexity of a recall.
During the simulation, the participants took on the role of officials in key positions in a fictional cookie factory. The issue: what to do with a batch of delivered cookies in which an unknown, potentially harmful substance was found?
"Recalls have a major impact on organisations", Kaj van Tetering, Account Executive Food & Drinks at Willis Towers Watson, explains. "When you are confronted with a report that food safety is at stake, the wheels start turning. Every decision you make from that moment on is crucial and must be on point. Because the damage – even just in terms of image and reputation – can be enormous." To give customers more insight into recalls, WTW already organised a seminar about recalls and the phenomenon of 'unsafe products' in 2017. "Now, we wanted to deal with the topic in a practical way, using a simulation."
Insight into dynamics
This took place in conference centre De Hamermolen in Ugchelen. The participants engaged in role play in small groups led by representatives from Willis Towers Watson and lawyers, damage experts and communication experts from Recall Solutions. Kaj: "The purpose was to increase the crisis awareness and provide insight into the dynamics, the hectic situation and the pressure of a recall". Because – as was also shown during this simulation – an impending recall is like a pressure cooker: decisions have to be made under stressful circumstances and time pressure. Even if there is 'just' a suspicion and the available information consists of half facts.
Pink cookies
The issue the participants were confronted with during the simulation was a deviating substance in the glaze of pink cookies that the fictive company Dutch Biscuits had made popular. Every participant played the role of a manager or director of the factory. In three acts, they discovered the value of a well-oiled process and decisive decision-making ('This is how we are going to do it. And that's that'). They also experienced how many issues they had to balance simultaneously in order to take control of an alleged food contamination. The simulation also involved real-life plot twists, such as interference from the NVWA and media. And what about company information that two board members are keeping under wraps during the crisis meeting?
Right or wrong?
The purpose of the simulation was to gain experience. It showed that there is no 'right' or 'wrong' answer to recall situations. It also made clear that the factors of 'factual information', 'acting quickly' and 'setting priorities in interests' matter – but are also at odds with each other. Legal, communication and compensation guidelines can certainly be helpful in making decisions in any situation.