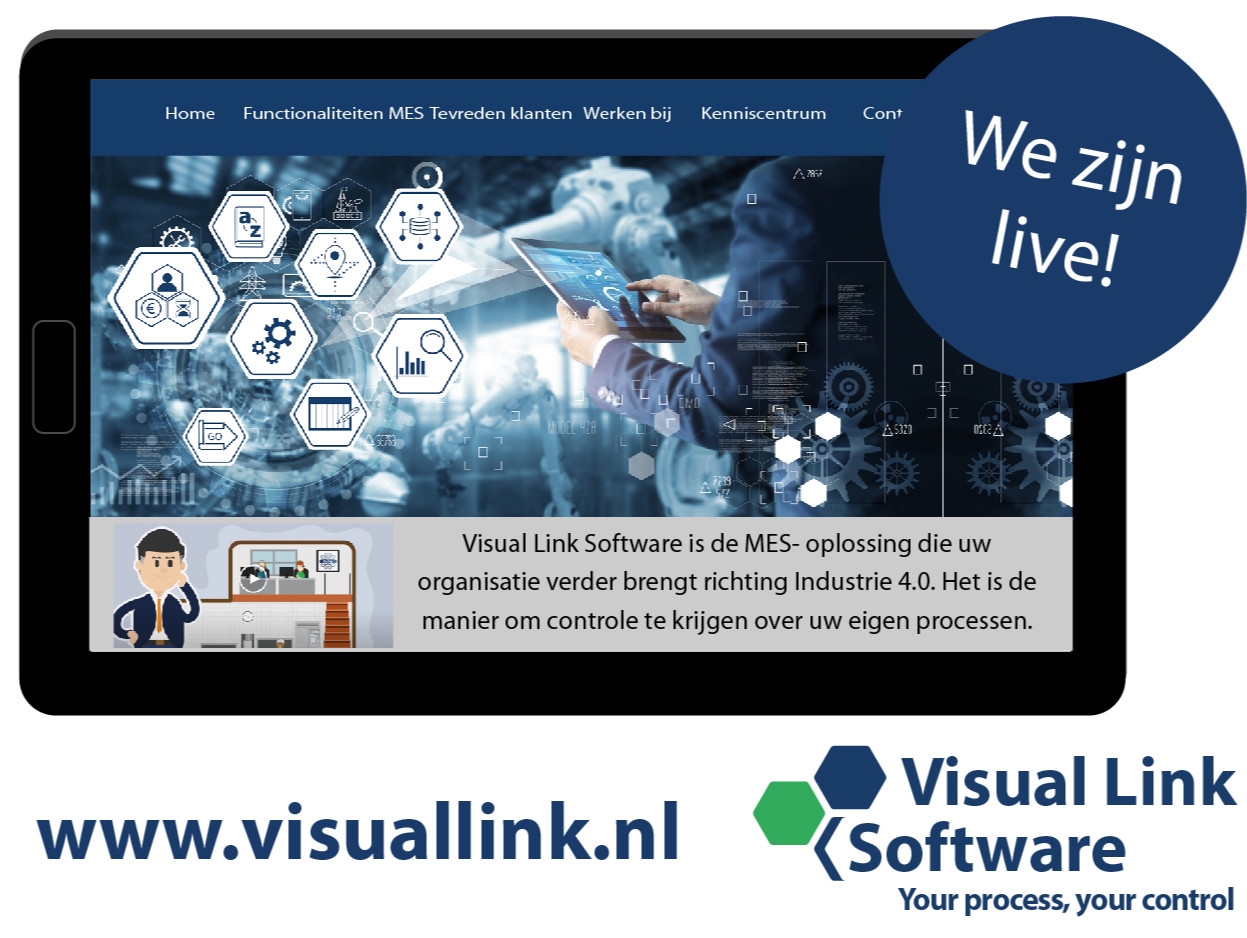 Vragen over een Manufacturing Execution System? Bezoek de nieuwe website van Visual Link Software en lees en leer alles over deze MES-oplossing. De site biedt onder andere een informatieve animatie die u op hoofdlijnen uitlegt wat MES is en doet. Verder worden alle functionaliteiten helder uitgelegd inclusief onderlinge samenhang. Wilt u meer diepgang over het onderwerp, lees dan één van de whitepapers of stel een vraag op het faq-gedeelte.
Whitepapers
Voor diegenen die wel eens van een Manufacturing Execution System (MES) hebben gehoord, maar geen inhoudelijke kennis hebben, is de whitepaper "MES, easy as pie?" een aanrader. Aan de hand van het fictieve bedrijf Pie-2-Go wordt de lezer meegenomen in het productieproces van de taartenbakker. De whitepaper laat zien op welke manier de MES-software van Visual Link knelpunten oplost en een meerwaarde creëert.
Al meer bekend met MES of wilt u zelf aan de slag met deze digitaliseringsslag? Dan biedt de whitepapers "De uitdagingen van een MES-implementatie" u een overzicht van de mogelijke obstakels en valkuilen. Uiteraard wordt uitgelegd hoe u deze kunt ontwijken. "De juiste keuzes bij een MES-implementatie" is een whitepaper die 11 tips biedt om te zorgen voor een succesvolle invoering.
Reviews
Uiteraard bevat de site mooie reviews van tevreden klanten. Zij vertellen op welke manier Visual Link Software hun productieprocessen heeft geoptimaliseerd en welke voordelen zij nu hebben van het systeem. Ook al maken sommige klanten gebruik van enkele onderdelen van Visual Link -het is een modulair opgebouwd systeem-, ook dan is de ROI hoog.
Wilt u weten wat MES is en welke voordelen dit systeem voor uw bedrijf kan opleveren? Bezoek de nieuwe site en neem contact op als u geïnteresseerd bent.
Visual Link Software is ontwikkeld door de software engineers van Hellebrekers Industriële Automatisering.