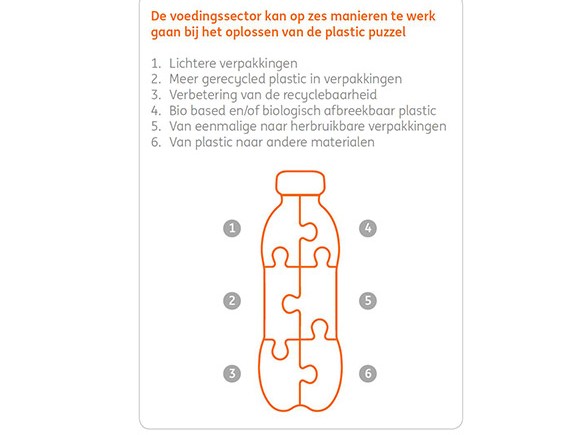 Five less packs a year can halt growth
The key to change lies partly in the hands of the consumer. If consumers were to reduce their annual use of plastic packaging by five, this could halt the growth in the number of plastic packaging. For the total to actually shrink, at least a reduction of more than five pieces per Dutchman is required. To achieve this, consumers will have to give up a bit of convenience."
The food sector has solutions at its disposal, but they are not perfect
Food manufacturers and retailers can work towards less plastic and better plastic packaging in several ways. An often used way is to use lighter packaging. For example, the weight of some bottles has fallen by half in fifty years. There are also opportunities in the use of recycled plastic instead of new plastic, the transition to bio-based plastic and the use of reusable packaging. In addition, changes to the design and type of plastic used can promote recycling. Each and every one of these ways will help to reduce the environmental impact of plastic and reduce dependence on oil and gas.
Ceel Elemans ING Sector Banker Food & Agri: "There are several ways to break the upward trend. They all know their limitations. Bio-based plastics, for example, are relatively expensive and many types of plastic do not yet have a recycled variant on the market that meets all food safety requirements. In order to take steps, companies will have to combine several ways."
Consumers see other materials as more sustainable
A large majority of the respondents in the ING Question of Today (64%) said that plastic was the least sustainable packaging material. On the other hand, glass and cardboard are seen as the most sustainable, partly because of the longer tradition of separate collection and the fact that a larger proportion is ultimately recycled.
Other materials do not always solve problems
If there are problems with the use of plastic, why are food manufacturers not more likely to choose tinplate, cardboard or glass for their packaging? Although other materials can sometimes provide a solution, switching often does not solve all the problems. For example, similar glass or can packaging generally requires more material and energy than plastic. Among other things, this does not benefit CO2 emissions.
"Plastic packaging knows its shortcomings, but giving them up completely brings with it new practical problems. For many fresh food products, there are hardly any alternatives that can match plastic in terms of food safety, shelf life, functionality and price. Reducing the amount of new plastic needed is therefore the most effective step now," says Ceel Elemans.