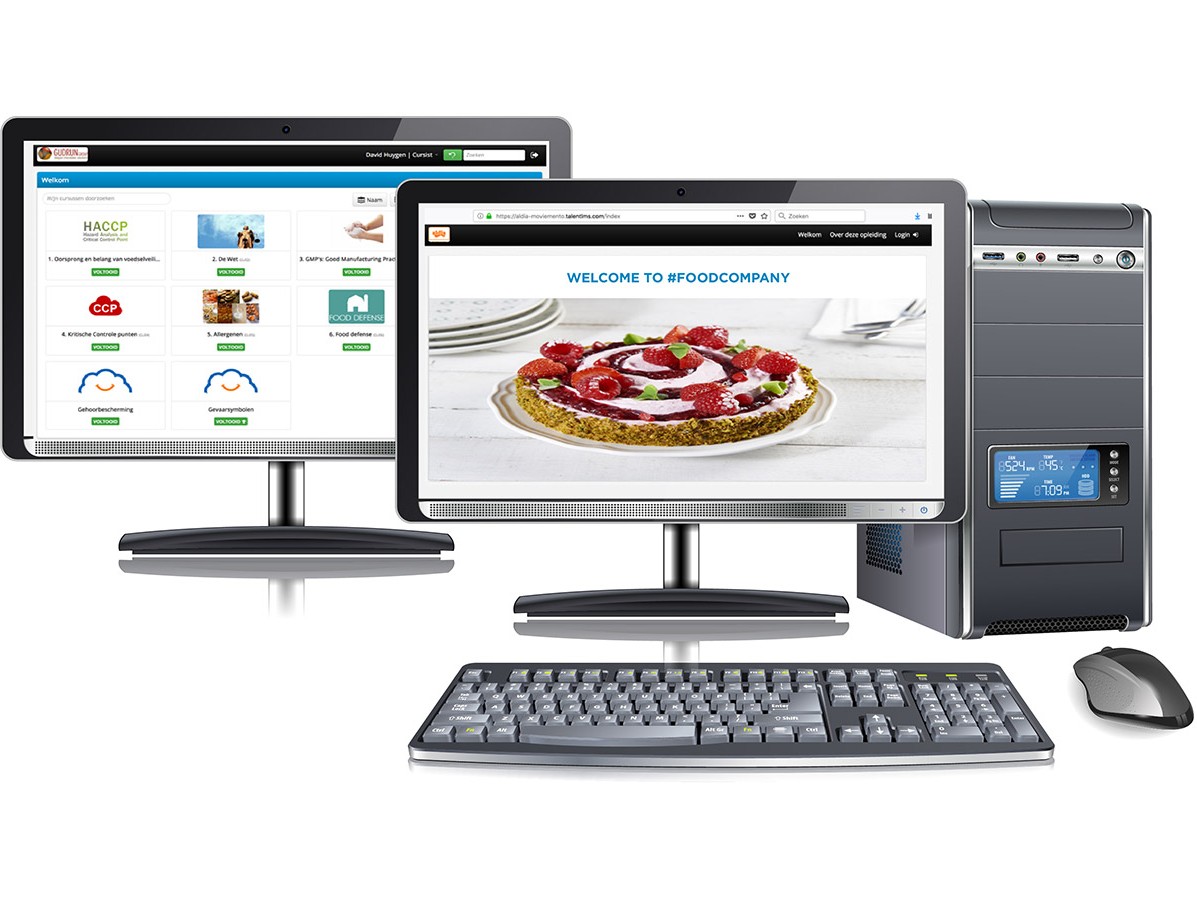 Qlean-tec | Christeyns launches an e-learning platform in the Netherlands which was specially developed for food processing companies. A platform that offers more than just learning. Which unburdens your organisation with online learning and sharing of knowledge about, amongst other things, HACCP, food safety, allergens, and food fraud.
"With our online learning platform Moviemento, we give e-learning a new dimension. We provide a continuous learning process and thus unburden the HRM and Quality departments of an organisation", explains Leo Frings, Sales & Marketing Director of Qlean-tec | Christeyns. "The new platform is completely in line with the laws and regulations and international standards in the food industry, BRC (British Retail Consortium) and IFS (International Food Standard). We don't just offer online learning, but also up-to-date information to people working in this industry. Modules can be made and complemented according to the client's requirements, in different languages. It is unique, entirely personalised and tailor-made."
Total solution
"We like to make things easy for our clients", Leo continues. "We create user-friendly and ready-made comprehensive concepts for food processing and other companies. Before, we only offered an e-learning tool which only had a learning purpose. A standalone element that could not be integrated into an Intranet environment. It was minimally used. We also noticed that having to comply with so many regulations for the food industry was a heavy burden on both the HRM and the Quality departments. This made us think. How can we, as a supplier, unburden this branch and offer added value? We believe that Moviemento will be the answer to that. It is a total solution that benefits the entire organisation and which can be used to work more efficiently.
Tailor-made
According to the BRC and IFS guidelines, an organisation has to make an inventory of the training requirements of its personnel, provide this training, making sure that the employees follow this training and that they get a certificate. It is mandatory to show an up-to-date overview of this during an audit. "A considerable job for the HRM and Quality departments as it is a condition for the granting and maintaining of the organisation's certification. Every employee has his/her own training requirements and, therefore, has to get tailor-made training programmes. Our platform meets this need. Together with the client, we organise and structure an online environment with a variety of modules that the organisation needs on a centralised as well as on an employee level. The system can be implemented into its own IT environment such as an Intranet, and designed according to the company's own style. This makes the tool recognisable and accessible. Every employee gets a unique login code to access the modules he or she needs. The progress of the employees can be monitored on a centralised level."
The Moviemento learning modules were developed in collaboration with experts in the field and a professional partner specialised in e-learning concepts. "The design and structure, implementation, and support are handled by our Moviemento support department. After a testing and evaluation period, the platform has now been successfully rolled out at a number of existing clients."
Learning and knowledge modules
In 6 chapters, divided into 42 modules, Moviemento tackles the most important subjects on food safety, such as HACCP, GMP, allergens, and food fraud. The content can be entirely tailored to the individual or a group. "We can, for example, leave out irrelevant subjects and add company-specific guidelines to the modules. The learning is attractive and interactive, we use video clips, animations, pictograms, and games to respond to the day-to-day work environment of the employee. Naturally, each module has intermediate and final tests, done in an engaging manner with immediate feedback, ensuring that the employee masters the information well.