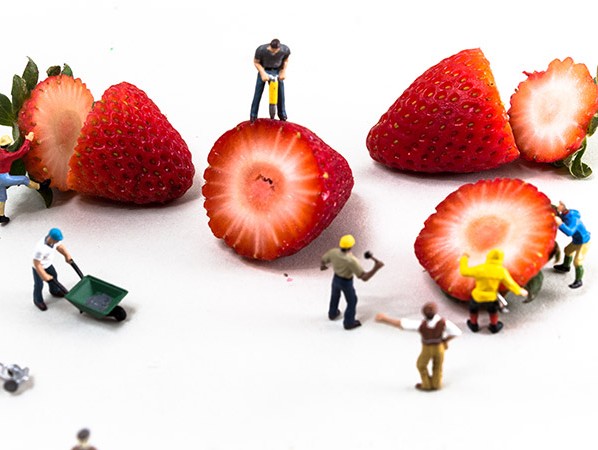 Food safety
HACCP will expire on 1 January 2021. Its replacements are BRC 8, IFS, ISO 22000 and FSSC 22000. What does this mean for the construction sector? "If you aim for the strictest standard, choose BRC-8", says Silke Potargent, trainer, consultant and expert in the field of construction and renovation at KTBA. "What does this mean for construction in concrete terms? For instance, BRC-8 states that filters for compressed air must be installed in their place of use if it comes in direct contact with the product. This is something you have to integrate in the design. That standard also states that the location must have taken adequate measures to prevent birds from entering buildings or nesting above loading and unloading areas. This obligation is not specified in IFS 6. The update IFS 7, which may include this, has been postponed; it is expected in early 2020."
All in all, there are quite a few points of attention with (new) construction. Silke lists 7 main items and provides one or more examples with each:
> The location. "Think of environmental consequences for the surroundings or negative influences from the surroundings on the production process. Pay attention to safety and food defence; can the gates be closed, is there an access system for employees, etc."
> The layout of the company. "Choose an I, L, S, U or O shape, this avoids cross-contamination of waste and end products in the routing. Make sure there can never be leakage above production lines, such as from oil or cooling pipes. Take the position of production lines into account in the context of allergens and contamination. And ensure that allergens cannot get from one line to another, not even via the air."
> Use of water. "What water quality do you need where in the company, can you recycle it, what do you do with wastewater?"
> Waste control and food waste. "In a bakery, for instance, there is always residual dough, which can be used for the next batch. But, during the construction, you need to make sure this is easily possible. If you want to donate all leftovers to a food bank, there needs to be a storage area for this."
> Pest control. "Pay attention to pest control in the design by looking critically at where they can nest and where they find water and food. For instance, do not place a container near a meadow or forest edge. This sounds obvious, but it really happens! Do not place any vegetation around your company. Make sure all cracks and gates can be fully closed. To prevent birds from nesting, you see companies hanging colourful balloons around the company. Also discuss possible solutions with a pest control professional."
> Temperature-controlled spaces. "Try to group cold spaces and warm spaces together, as this results in energy savings. If you go from very cold to warm, then take a sluice into account and make sure you have the right doors."
> Infrastructure. "This component receives a lot of attention. Think of round corners, no nooks and crannies, a food-safe choice of materials, inspection and cleaning options, hygienic design and no moisture retention."
Attention to maintenance
Building isn't just about new construction, even though that provides appealing examples and stories. It is also about renovation and maintenance. And there does not always appear to be enough attention for that. KTBA analysed various audits performed based on the BRC Food, IFS Food and FSCC 22000 schemes. The researchers discovered a striking fact: 1/3 of all deviations are found in criteria that relate to compliance with the basic conditions. Most of these conditions have to do with the design and maintenance of structural and technical facilities, as well as hygiene (cleaning and compliance with hygiene rules). KTBA sees this as a clear signal: "It appears as though maintenance and care for hygiene are given (too) little priority". They not only plea for better internal supervision of cleaning and compliance with hygiene rules, but certainly also for more attention to maintenance budgets and the execution of maintenance plans.

Sources images:
- Images helmet: ©PHONIX_A PK.SAROTE/SHUTTERSTOCK.COM, Image building: ©PETRMALINAK/SHUTTERSTOCK.COM, Image floor: ©RUYS VLOEREN and Image strawberries: ©SEAN VOELGER/SHUTTERSTOCK.COM