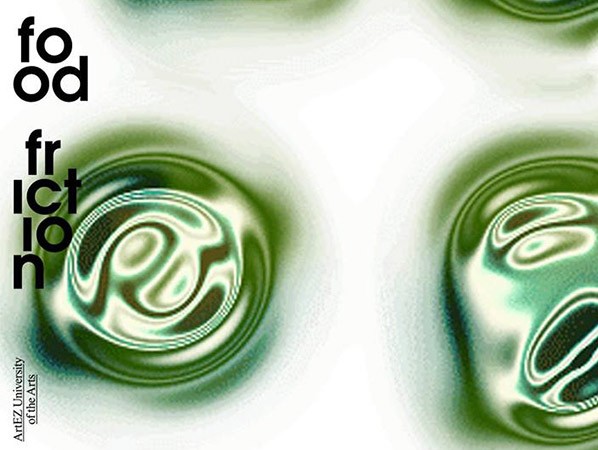 ArtEZ Hogeschool for the Arts will organise the conference 'Food Friction' on 30 November, in Arnhem in Musis. There is a huge challenge to cope with the rapid changes in food production. With a selection of researchers from the arts, design and science, the food themes will be examined from the perspective of art & design research. Confrontations and explorations are conducted with entrepreneurs, students, researchers, the business community and political representatives.
In a world full of turmoil, systems that fail and old certainties that disappear, artists and designers can play a meaningful role in offering new perspectives and thus help create a liveable world. Soil subsidence, extreme drought, overfertilization, waste, plastic soup, food waste, the destruction of the rainforest and obesity are some of the food-related themes.
The power of art
The power of artists is autonomous thinking. This allows the artist to be critical of existing things and creative about what is possible. The artist makes the connection between 'the actual mind' and 'the possible world'. This is what makes the combination of art, science, business and politics so interesting during Food Friction. The congress shows many examples of this critical and creative thinking process and tries to show visitors, feel and experience the power of these processes.
Results of speculative research will be presented and together with leading scientists, food designers and bio artists such as Mati Guixé and Angelo Vermeulen, existing paths will be explored and boundaries will be pushed.
Programme
In the morning, four keynote speakers, including Louise Fresco (chairman of Wageningen University & Research) and Nishant Shah (dean ArtEZ Graduate School), give an insight into the world of food, food and its development. In the afternoon there are theme sessions with lectures, presentations and debates with the following five themes:
- Food & Fiction; how to find ways to create clear images and stories, allowing consumers to make real choices?
- Food & Agriculture; where to produce better food without waste? Are there new sources in water and land? Or are new business models a solution?
- Food & Technology; what can science and technology mean for a world that faces major challenges in food production and consumption?
- Food & Culture; the food identity has shifted from simple principles of availability to brands, beliefs, identity. What influence can fashion have on this?
- Food & Behaviour; the food consumed is not the same as what one finds sensible to eat. Behaviour is only partially rational.
Curator Katja Gruijters
Katja Gruijters will be the curator of this congress. Katja graduated from the Design Academy Eindhoven in 1998. After a career in the food industry, at various companies, she founded Studio Katja Gruijters in 2001. Working in the field for 19 years now, she has realized a wide variety of projects. Katja also teaches at various academies in the Netherlands and abroad. Including at Product Design at ArtEZ (the subject food design). Her book 'Food Design, Exploring the future of Food' was published last year.
Booking a ticket quickly; ticket sales go fast!
Tickets, including Food Friction lunch, are available on the website: www.foodfriction.artez.nl and cost 50,- per person. (15,- for students). We advise you not to wait too long to reserve a seat, as 2 of the 5 afternoon sessions are already sold out.